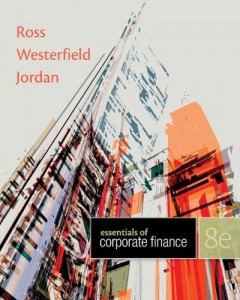 Corporate finance experts Stephen Ross, Randolph Westerfield, and Bradford Jordan have teamed up for the eighth edition of their book Essentials of Corporate Finance, released in January of 2013. Essentials of Corporate Finance is targeted at a student audience, with or without formal training in corporate finance. In it Ross, Westerfield, and Jordan explain the most important principles and concepts of corporate finance in language that, unlike some other corporate finance books, is easy to digest and apply.
While anyone can easily read what the authors have prepared, the book is ideally intended for corporate finance students learning to grasp of the basic principles of their intended career. The book includes an adaptive learning component added by publisher McGraw-Hill, a component that provides students with modules designed to help them master the core principles of every chapter before moving onto the next. Each chapter concludes with strong content that firmly cements learned principles in the minds of students so that those principles can be carried into future chapters.
Ross, Westerfield, and Jordan clearly lay out their belief that it is important for corporate finance students to understand not only just how things work, but also why they work the way they do. Teaching the 'why' is based on three core philosophies: individual intuition, valuation, and management. When students understand why certain influences affect corporate finance, they can combine that understanding with their knowledge of how things work in order to produce profitable outcomes.
Essentials of Corporate Finance is a book best suited for university students in a class setting. However, it is an excellent work that any individual can use in a nonacademic setting as well. Each of the chapters explains basic principles first, and then applies examples and details for greater understanding. Anyone wishing to understand the core principles of corporate finance could learn a lot from Stephen Ross, Randolph Westerfield, and Bradford Jordan. There is a reason why this book is now in its eighth edition — it is an excellent learning tool for the basics of corporate finance.